CCW. The three letters of a high importance for everyone who carry a gun every day. No matter which shooting community you belong to, probably you know what the abbreviation means. Concealed carry weapon stands for the practice of concealing your gun while in public. Laws concerning CCW differs from country to country.  In certain of them, even a pocketknife or a pepper spray may be considered as a weapon.  
"Before traveling abroad, get to know the country's lawsuit on CCW. You will thus avoid unnecessary trouble."
Concealed Carry
Even though it is not a rocket science, the CCW system should be approached in complexity. It is a thing that may save your life once. The gun is a self-defense tool, but the tool itself is never enough. The self-defense is to great extent about material, physical and psychical readiness. The equation might sound like:
Self-defense, martial arts or sports + physical training + shooting range training + health education + psychological training + legal awareness = the core elements of successful self-defense (it is important to realize that offender is the one choosing a place, time and means of the attack, diminishing your chances under 50%).
"Ignorance of the law is no excuse "
Basics first… To really become able to handle a damaging situation, you need to keep your gun in a good quality holster you can rely on. Yes, the quality holster ensures that your gun will not fall out and you always find it where it is supposed to be. The gun draw will be more effective, and you will gain a precious time to react. What are the possibilities CCW brings to us?
The concealed carry offers several options. IWB holsters, OWB holsters, Belly Bands, Shoulder Rigs, Ankle holsters, Pocket holsters, various bags, punches and bum bags. There are some specific options for women, such as Thigh holsters or Bra holsters. We will get to all of those later. Now let us focus on IWB.
IWB Carry
What are the Pros and Cons of IWB Carry? Why do they belong amongst the most popular holster types? What are the possibilities offered by this system? These, and even more questions will be answered shortly.
"Owning a gun is not enough for effective self-defence. Either having a good quality holster. You need to train."
IWB is the abbreviation for Inside the Waist Band. It stands for inside gun carry system- the gun is positioned between underwear and pants. Usually attached to the belt by steel clip, belt loop or a buckle.  The wearing comfort of IWB holsters does not only depend on the quality and material of the holster but also on its position and the habit. A considerate role plays a gun itself- the size and weight. Anyway, IWB holsters are an ideal solution for people looking for safe and effective system of concealed carry and belong amongst the most popular types.
The Greatest Advantages
– Low profile. IWB holsters offer a way to carry your gun in the least noticeable way. This of course depends on the gun size and the holster position.
– Safety. The level of safety depends on the gun user. The drill perfects the drawing and re-holstering of a gun. Still you always have your gun in the reach (unlike when using a bag/pouch).
– Gun Draw. There is no significant difference in speed while drawing from IWB or OWB (under the same condition of having the shirt over a holster).
– Variety of options. Unlike Shoulder Rigs, IWB offers a wide range of possible materials and designs.
The Greatest Disadvantages
– Holster position. In certain positions, the gun aims directly at parts of your body. For example, 12 o'clock carry while driving. At the same time, this is the most effective position in given situation.
– Mind set. Concealed carry brings up the question "Should I carry a gun cocked and locked?" This is each shooter's individual decision.
How to choose the ideal IWB holster?
Honestly, there is no ideal holster at all. The choice depends on individual needs and requirements of every shooter, and the occasion in which the holster would be carried. The best is to have a combination of a few different holsters for each gun. At least keep one IWB for each gun of yours. Answering following questions will help you to choose the most suitable one.
Which material?
As we mentioned, IWB holsters belong amongst the most popular types and so there exist lots of designs and different material variations. Commonly used materials are leather, Kydex and nylon. Naturally, this is the first question you must answer.
Leather
Leather is a traditional, durable material that can match the lifespan of the gun itself if you maintain it well enough. At the same time, its surface is lacquered and so the breathability is much smaller than with nylon. Absorbing part of a sweat may change the appearance of material and add a nice patina to it.
Nylon
Considering the wearing comfort, nylon is an ideal material for IWB holsters. It is soft, light and scratch resistant, better absorbs sweat and is comfortable to wear. Some producers use 3D material that allows better air circulation and minimizes the sweating. You can even find innovative holsters on the market, that combine nylon with other materials. The first to introduce this method was Falco Holsters. Essentially, they combined the advantages of nylon, leather and plastic. Combination of these materials allows such holster to retain its shape, providing faster and easier re-holstering. They also offer integrated plastic rail protecting the sights.
Kydex
Kydex is the least comfortable material choice for IWB holsters. On the other hand, Kydex holsters are the safest. They are self-retaining and thus hold the gun in place. The gun draw and re-holstering is fast and safe, Kydex holds its shape and even the empty holster stays fully open. The wearing of an IWB Kydex holster might be less comfortable in the beginnings but can get used to. 
Hybrid
Lately, there are more and more hybrid holsters popping up. Usually this includes interconnecting leather, nylon, or Kydex. In this case the leather, as a softer material, forms a platform for the body and Kydex a shaft for the weapon. This method is bringing remarkably interesting and functional holster types They tend to be larger, because they are composed from different parts made from various materials that need to be connected.  
Lock
Generally, cannot be found with IWBs. The main reason for that is the time effectiveness, making the gun draw faster. However, you can find a retention screw that can be used to regulate the force of resistance when gun drawing.
Belt Attachment
Commonly used belt attachment styles are belt loop. Steel clip, and occasionally tuckable system, allowing you to tuck your shirt in front of a holster and a gun. The wider the holster is, the better it sits on the belt and shapes around the body. Especially important think Is choosing the right belt. The belt widths of 1.5" and 2" are the most often used standards. The belts are commonly made from Leather, Neoprene, Nylon or different variations, for example Nylon reinforced with plastic. 
Holster Design
Everyone has a different taste. That is why choosing a holster type is very individual. In every case, the especially important is to have the holster custom made for your specific gun. For the effective gun draw it is essential to take a correct grip of the weapon, so the holster must be made in a way that holds the gun in the right position. If the holster is not designed well, the wrong gun grip might cost you time and make your self-defense ineffective.
Carry Style
IWB holsters are carried in different ways, depending on the chosen position. It is believed, that the ideal carry style for IWB holsters is between 11 o'clock and 3o'clock position.
Sweat Guard
Sweat Guard is almost a standard for all IWB holsters, it is a prolongated rear part of the holster, reaching up to the hammer of a gun.  Its main purpose is to create a barrier between the gun and your skin. Also, it keeps the moisture and oils away from your skin or shirt. However, with certain gun designs the sweat guard might not be comfortable during the longer carrying periods.
Conclusion
The final advice. If you just plan buying your EDC, consider its size and weight. It is recommended to keep at least one IWB holster for each gun of yours. The price-quality ratio is present, although it is a quality you can rely on every time. Yu need to be sure that the gun is always in the place where it is supposed to be.
So called appendix carry is a very suitable position as long as you sit or drive a lot. Drawing is very fast. In addition, you won't get in the car while towing seat belt. At the same time, but it should be added that I recommend this wear only to the people they have mastered good habits and safe handling of the weapon.
While carrying you, the barrel of the weapon point at your feet. The ideal inclination of the case in this case of wearing is +/- 90 °.

The most practical and common carry style for OWB holsters. The gun usually sits in 90° angle to the belt. Of course, the carry is possible under different angles too, according to your individual needs and requirements.
Every person has different biomechanics and so the ideal tilt varies accordingly. With this carry style, the hand falls straight at the grip of a gun and the gun draw is simple.  
Stands for carrying gun further on the back and slightly tilted. The further to back the gun is carried, the bigger the tilt must be, to enable smooth gun draw. This carry style offers the best gun concealment but is less comfortable and far from ideal concerning the Self-defense.
In a case of unexpected physical attack, you cannot reach your back to draw a gun. Moreover, mostconflicts end on the ground, making the gun draw from this position impossible.  In fact, the gun might be easily taken from you. The only potential of small of the back carry is while wearing a suit or unzipped jacket.  
Choose your best IWB holster here:
What to consider when choosing a holster?
At first, consider the position of the your weapon when carrying. 
Choose the right material of holster for the type of use & carry.
All our products are custom made for your gun. Therfore we guarantee the prefect gun fit.
We offer only the best quality of material for reasonable and affordable price.
Our products come with 2 or 5 years warranty – depending on the material.
We guarantee the highest safety standards of online shpping.
Pancake IWB holster review
This holster brings you the most flexible design in a pancake-style gun holster anyone can offer. A102 Besra is a highly-compatible holster that fits a wide array of pistols and revolvers. It is an 'Inside The Waistband' model for a comfortable fit that doesn't irritate the skin.
If you're looking for a holster that conceals your gun and reinforces the safekeeping with easy access, it is the right choice. The slim design makes it best to carry with impeccable discretion. Furthermore, it is a highly customizable choice available for any gun enthusiast. Check more gun and scope guide here at proreviewbuzz.
Let's take a better look at the Falco A102 Besra with this review. We will break it down for you to help you make an informed decision regarding the holster. So, let's begin.
Gun Compatibility:
It seems to suit almost every model of pistols and revolvers. You get Alfa, Jerico, Taurus, Zoraki, Colt, Glock, and much more. Overall, you can select the company, then the model. You can even choose the barrel and caliber of the gun for a better designing option. It is undoubtedly an outstanding choice. You can add further instructions or special requests which may or may not cost extra.
Sight Integration:
If you have sight equipment for your gun, you get the option to choose the sight. That's right; this is to ensure a comfortable fit for your weapon.
Wearing Options:
As stated before, it is an IWB model. However, you can get it for right hand or left hand wielding. You have an appendix and kidney carry option. Furthermore, you can get it straight on the hip or an angular holstering. All of these options ensure you have unmatched comfort while wearing this holster.
Aesthetical Customization:
You can choose a leather underlay, and there are around seven colors available. Black, brown, orange, red, blue, pink, and green appeal to anyone's taste. There is an option to choose stitching color and leather edge colors. So, as far as the appearance is concerned, you have nothing to worry about.
Other Options:
You can choose to add a sweat guard for your gun. There are two standard sizes, 40 and 50 mm. If you seek to get initials, that can be done precisely.
Overall, you have a premium-grade holster that can offer you a perfect fit if your guidelines are on-point. It is a good idea to opt for this holster after you buy a gun.
Any Other USP?
Falco is a respected company that manufactures premium-grade products since 1989. With each purchase, you get a lifetime warranty on specific aspects of the holsters (Limited). You are purchasing directly from the manufacturer, so there isn't any middleman. Thus, you can save plenty on that part.
Resilience Of Natural Leather
The holster is thoroughly natural, from Italian leather to stitches and color in use. While you may face a little problem at the start, just like any other leather holster, it will mold and conform to the shape of your gun. You can wear it with a belt or have customization. Most of the options won't cost you too much, while the standard price for the holster is very usual for a leather construct. Hence, you have a durable holster that will work well with proper care, as you care for the gun.
The Possible Drawback
A singular drawback that the holster seems to have is that it is not suitable for beginners. If you don't understand leather and color combinations, you may not get a holster that you'd like. It is better to first purchase the gun and order this according to the model and its caliber, among other aspects. In short, its biggest USP can be its drawback for newbies. Of course, you may educate yourself in the area, take an expert's advice, and determine how you want it to be. So, it is not a significant drawback, either.
Final Thoughts
It has a slim design and comes with a steel IWB belt clip. You get to design your holster from scratch with the credibility of Falco. It can't get any better than this. With compatibility for such a large arsenal of handguns and flexibility to wear according to your requirement, it is undoubtedly worth the investment. Therefore, Falco A102 Besra makes up for a very great personal selection or a gift.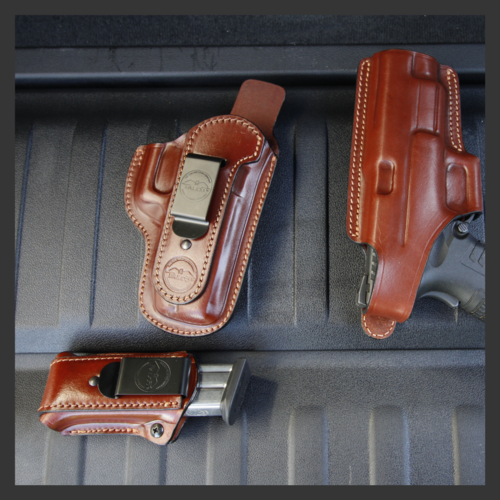 Find out more about other carry styles
© 2020 bestiwbholsters.com